Don't forget to check out A Bowl Full Of Lemons!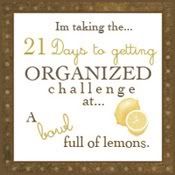 Day 6--Organize your dresser drawers
I did this when I went on my cleaning spree the week between Christmas and New Years, but I am currently doing laundry so I am challenging myself to get the laundry put up as soon as it is done. Sorry no pictures! We did take 3 bags of clothes to Goodwill on Saturday though!
Day 7--Organize the Pantry
Our apartment has exactly zero storage space. Our "pantry" consist of three of the kitchen cabinets, our counter and the floor. Here are some pictures--My goal was to get all of our food off the counter & kitchen floor, it almost worked!
Before:
Day 8--Organize the coat closet
I did this before New Years when I took down the Christmas Decorations, why?? Because it is the only storage space we have for our Christmas and Halloween Decorations! Here is an after picture though :)
Yes we also store the dog food and dog toys in this closet, and yes I do still own a pair of roller skates and Adam bought the bowling ball at goodwill for $.75 shortly after we got married, according to a guy at the bowling lanes it is actually a really good ball. and the TV trays are what we normally use to eat on because previously we could never find the kitchen table :)
And now I am caught up! See you tomorrow :)