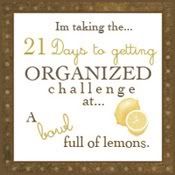 Today's challenge was your kid's toys. I don't have kids but I do have puppy dogs, and a husband! So I decided to "organize" the dog toys, our board games, Video Games, DVD's and my cookbooks (only because the cookbooks and DVDs are in the same corner)
Before Pictures:
Looks fine but completely unorganized
These books don't all fit...
Dog clothes do not go in the basket with the dog toys...
During:
Oh thats what that bookshelf looks like!
These are going to ebay! (the dog toys are now in their basket!)
These are now alphabetized on our bookshelf!
After:
Board games under TV stand, Dog toys and treats neatly in basket (for now)
DVD's, Video Games and CD's Alphabetized
Bookshelf of Cookbooks organized according to size and how often I use it. Cooking related magazines organized by edition and title!