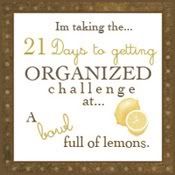 Well, I didn't get day six done today but day six is to organize your dresser drawers which I did right before new years so I think just some basic straightening will be needed tomorrow and then we will be golden :) A ice storm hit the area tonight so my office is closed tomorrow and I will do days 6-8 tomorrow.
Day 1--Organize your junk drawer
We don't have a "junk drawer" but junk does seem to accumulate in the area under the hutch we use for a bar so I decided to clean out it instead :)
Before (most of the alchol levels in those bottles hasn't changed in the past six months!):
After:
Day 2--Organize your computer desk
Again, we don't actually have a desk that we use, but our Kitchen/Dining room table kind of serves as a desk when we need one and it collects the same crap my computer desk used to collect in Louisville.
Before:
After:
A bonus to clearing off the table--We can raise the leaf on this side and eat at the table now instead of the tv trays we normally use :)
Day 3--Organize your Tupperware Cabinet
I felt like I was cheating with this one--My Tupperware cabinet is the one thing I do a fairly good job of keeping organized but I did take advantage of the chance to try and organize some of the big Tupperware pieces we got for our wedding like the cake carrier etc.
Before:
After:
See much better!
Day 4--Organize your Linen Closet
We use the top of our bedroom closet for our bathroom towels, two wooden hope chest type boxes for our sheets and blankets and keep a couple of towels under the sink in the guest bath. When I did my cleaning spree before New Years I went through and got rid of a lot of old sheets and blankets but I did need to organize better.
Before:
After:
This box will hold the blanket and pillow Adam is currently curled up with also :)
Day 5--Organize under the kitchen sink
Nothing special here.
Before:
And that's my work for today :) I'm slightly embarrassed by my before pictures but super proud of the afters!
Feel free to join me playing catch up wasn't as hard as I expected!