Toni @ A Bowl Full of Lemons is at it again with her great challenges. This time it's a home management binder which I think is an awesome idea!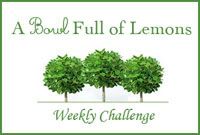 My Home Management Binder is going to be a work in process for the next few months while we get used to Navy life but I think this will be a great way for us to keep track of the important paperwork we will be accumulating in the near future!
My Binder
I got this great pad of weekly planning paper at Swoozies when our local store was going out of business. I LOVE this thing and use it all the time, I decided the best place for it was in the front of my binder so I used binder clips to secure it onto the inside front cover
I love these pens, unfortunately this is the last of my stash from study abroad, if any of my Europe friends want to mail me some more I will love you forever!
I have color coded our calendar using my amazing pens. I am pink, Adam is green, Dogs are purple, Household is brown, and important dates (bdays, anniversarys, weddings etc) are red
Our filled in Calendar for March
On the inside I labeled binder tabs:
Schedules--This section has schedules for things that need done regularly like cleaning and car maintenance. I downloaded a free schedule from excel for our cleaning and customized it to our needs, It divides out things that need done daily (dishes, clutter etc), weekly (laundry, dusting, watering plants etc.) Monthly (windows, refrigerator etc) and Seasonally (closets, furnace filter) I also printed out just a blank spreadsheet to record the mileage for our cars with their maintenance schedules.
Finances--This section has four parts, 1-I printed a check register from excel for each of our bank accounts. On this register I will record all account activity weekly. I carry our checkbook with me so if I am hit by a bus Adam will have no clue what we have outstanding from our account, this will give him a central place to go and have an idea exactly what we have. 2--A list of automatic payments. Our mortgage, insurance, and my student loans come out of our accounts automatically. I printed a list of the amounts, dates and what account all of these things come out of automatically so we won't forget. 3--Our budget. I keep our spending tracked in excel next to our budget. I printed a hard copy of our regular budget for easy reference. I am going to just leave the regular copy in the binder and will print a new copy whenever it changes significantly but I will continue to track our monthly budget in excel and edit it for special occasions etc. 4--next year tax documents & records. I printed a spreadsheet to track charitable gifts and donations but I also put into the binder this pink plastic organizer in this section. I will use it to hold any tax receipts we receive, it also currently houses our KY tax return because we have to paper file it and I was waiting on Adam to sign it. It will go in the mail this week.
To Do--This section has a blank grocery list organized by section that I downloaded the template for from excel. I added to it a box for each item to note if I have a coupon for an item or where to buy it. I don't drive all over the town for groceries but I will go to Sam's club for some items and Kroger/Publix for others. Also in this section I have a template of a reading list I downloaded for myself. I have gone through my bookshelves and added the books I own but have not read on this list for me to check off as I complete the books. The third list in this section is a true to-do list. I have a list of my own projects (crafts etc.) as well as some things that need to be done like repairs on our house in Louisville.
School--In this section I have already put unofficial copies of all of my transcripts. I will also use this section to hold a copy of my current class schedule and any school related "stuff" that I need to keep.
Medical--I will keep our medical records in this section. Currently I have a copy of my immunization records and a "pet health log" that I downloaded from excel for each of the puppies to track their shots, vet visits, and medicine.
Blank Forms--This section is exactly what it says. I printed extra copies of all of the forms I downloaded from excel and have them in this section :)
YAY I finally finished a challenge!!!!!!!!!!!